Why alcohol-removed wine?
With an extensive range of varietals for every taste, Edenvale has a range of red, white, sparkling and roses that are easily available online and at local supermarkets.

100% Australian made and owned, Edenvale is Australia's leading premium alcohol-removed wine brand. One of the very first Australian brands to enter the alcohol-removed wine space with the use of patented spinning cone technology, refined techniques have led Edenvale to become known as a global leader in the category.

To try the great taste of our wines, Australians can head to their local Dan Murphy's, Woolworths, Coles or independent grocers to pick up a bottle of Edenvale.

Alcohol-removed wines provide many health benefits, including being high in antioxidants and low in calories. While a healthier alternative, premium alcohol-removed wines, such as the Edenvale range, retain the taste and aromas of their alcoholic counterparts.

Whether you're abstaining from alcohol or just want a delicious beverage to experience and enjoy with a meal, there is a reason that alcohol-removed wine is one of the fastest growing beverage categories!
Edenvale: The popular choice in alcohol-removed wine
A proudly Australian-owned and operated company, Edenvale is a recognised global leader in alcohol-removed wine. Across our thoughtfully crafted and carefully selected collections, the Edenvale range of premium alcohol-removed wines offers everyone's favourite varietal, including Pinot Gris, Pinot Noir, Cabernet Sauvignon, Sparkling Rosé, Shiraz, and Sauvignon Blanc, to name but a few.
Our product is exported to countries across the globe, from New Zealand to Belgium, China, Taiwan, the UK and more. We are constantly looking to create new products to bring to the market for wine lovers globally, such as our recently launched Spanish Expedition Series, offering authentic Spanish wines for a range of tastes.
A unique product in a growing market
Using grapes sourced from Australia's most renowned wine regions, Edenvale wines provide the taste and complexity of premium wine, having been created using traditional wine making techniques.
All of our alcohol-removed wines begin life as fully fermented, alcoholic wines before we carefully remove the alcohol using a unique evaporation process through the use of patented spinning cone technology. The result is a full-bodied wine that offers the same varietal-specific flavour profile and aromas as its alcoholic counterpart.
Occupying a unique position in the growing alcohol-removed beverage market, Edenvale delivers a high quality, sophisticated Australian lifestyle beverage that can be enjoyed by all.
Find Edenvale at your local bottle shops and supermarkets, or online
Edenvale's wines are currently sold instore and online at Dan Murphy's, BWS, Coles, Woolworths, IGA and Sans Drinks stores. A bottle of Edenvale is never far away!
You can also buy direct from us right here on our eshop.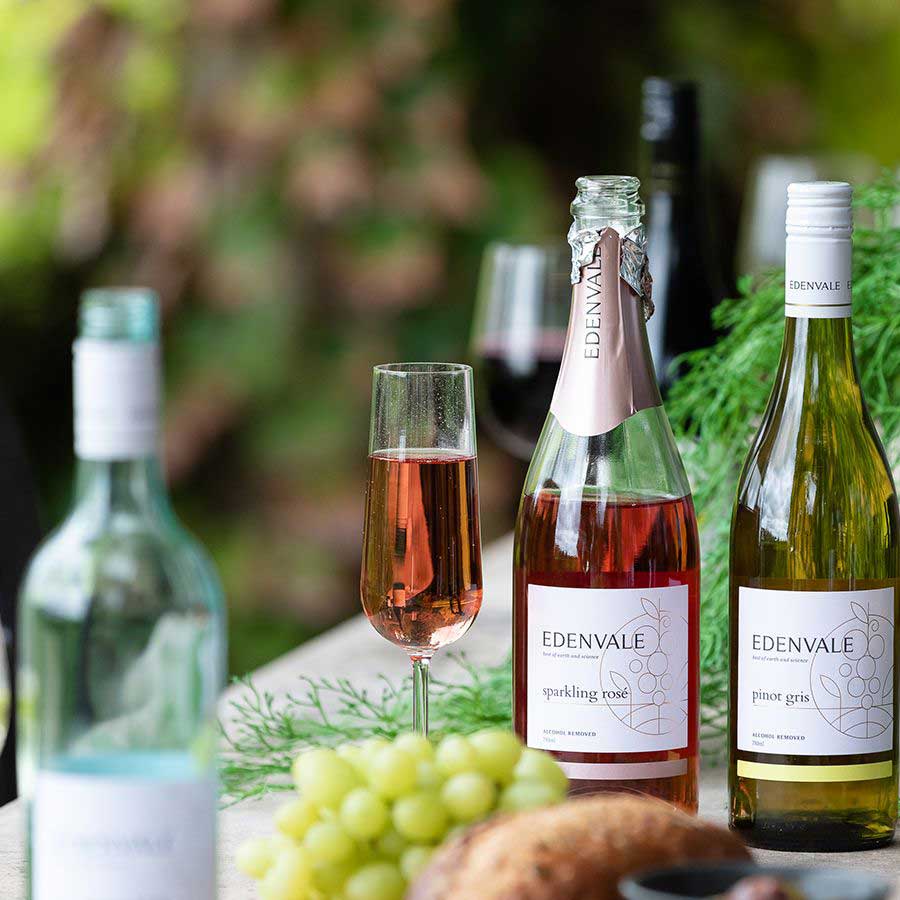 Contact us about non-alcoholic wines
Please leave us a message using the form below and we'll get back to you promptly.